Thorough in his approach, understanding but firm with cast and coworkers, having that balance in what to take seriously and what can roll off the back, Eugene was a pleasure to assist. I was eager to do whatever I could to contribute effectively to his and the production's success.
-- Suzanne Duffy
Flutist
His work was outstanding, creative, and always faithful to the different aesthetics and styles of the two productions (Romeo et Juliette and A Midsummer Night's Dream).
-- Ron Luchsinger, Stage Director
I first met Eugene when we both served on the committee that plans Pasadena's wildly popular, biannual Art Night event. Over the years he has made it possible for my students to attend innovative arts performances and events, even meeting Savion Glover in person! He is a thoughtful arts leader who understands organizations' needs to reach their mission goals and provide extraordinary arts programming to the public.
-- Tiffany Owens,
Educator, Arts Magnet Coordinator
Highly professional, running rehearsals efficiently and effectively. He allows his creativity to flow, articulating his understanding of the story and how he wants his performers to bring it to life.
-- Lori Ann Fuller Piscioneri, Soprano.
Director Eugene J. Hutchins used the theatrical space with great ideas.
-- John Farrell,
Long Beach Press-Telegram
Hutchins' production of Verdi's Gothic masterpiece, Il trovatore, is sparkling and thrilling.
-- Charles Ward, Houston Chronicle
Although a relatively unknown quantity in New York dance, his work is deeply reflective and promising.
-- Jennifer Dunning, The New York Times
Mr. Hutchins directed a lively production…. I was most impressed with his handling of crowd scenes which often are problem spots in most productions. It was here that his dance knowledge and experience proved most effective.
--Joel Adams, Former General Director, Capital Opera Raleigh
He is an excellent colleague. He never drew a line around his job description, but simply looked to see what needed to be done and did it.
-- Matthew Lata, Stage Director
One of the brightest and cleverest directors I've worked with. He is a well prepared man of the theatre, who has constantly demonstrated strong leadership skills, insightful artistry, and totally dedicated work ethic.
-- Scott Tilley, Conductor
He is also a patient and calm teacher. When teaching the "wedding dance" sequence for Figaro, his instruction of the dance was clear, specific, and designed for the many non-dancers.
-- Ross Halper, Director, Translator, Tenor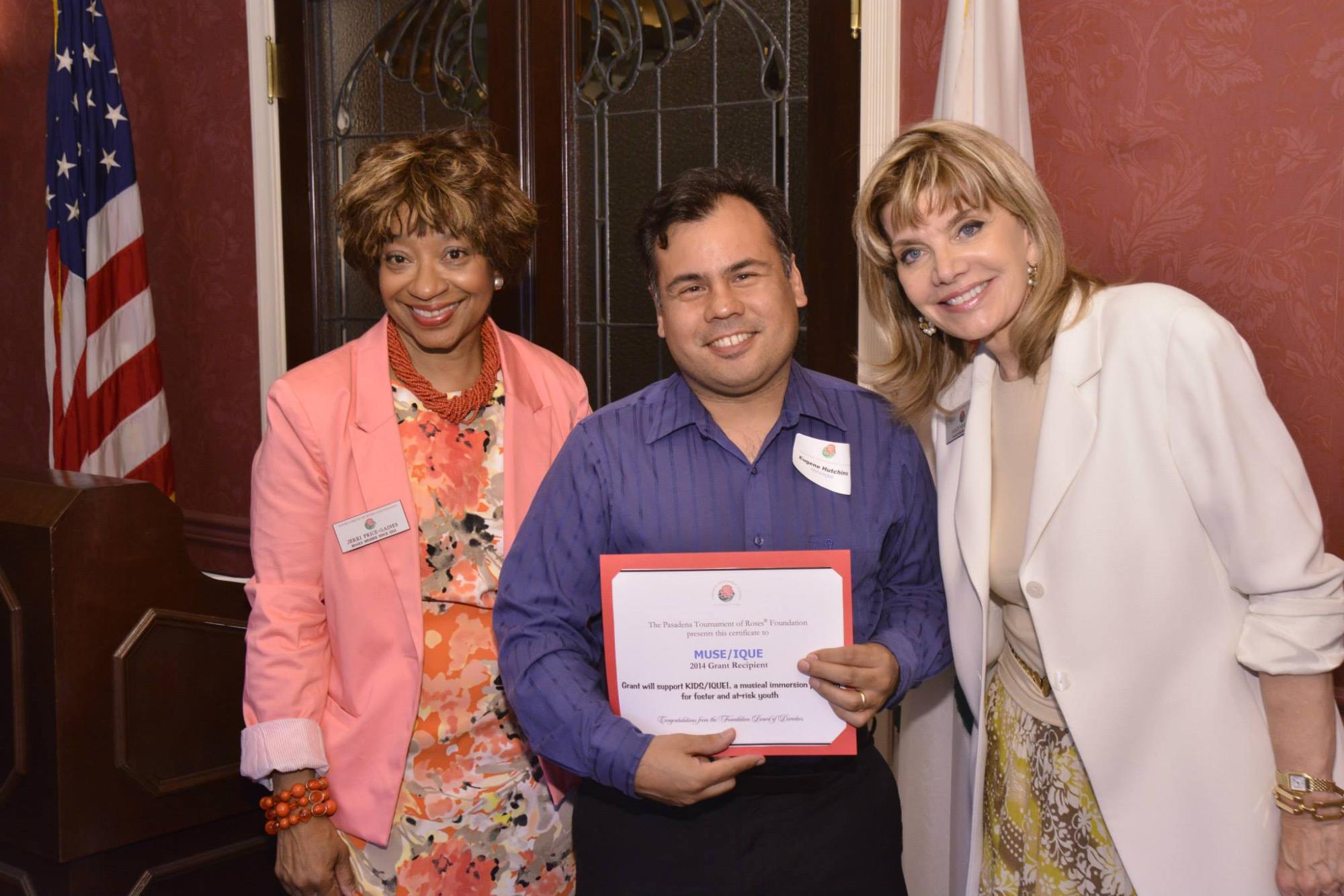 Receiving a Grant Award on behalf of MUSE/IQUE from the
Pasadena Tournament of Roses Foundation.
Eugene wrote three successful proposals to this Foundation to support the following arts programs:
Music outreach program for foster and at-risk youth.

Accessibility initiative to bring ASL Interpretation and Audio Description for the Blind to performances of plays and musicals.
We owe a great deal to your willingness to co-produce Ike originally. Its been a tremendous effort from the beginning and you had so much to do with it.
-- John Rubinstein
Tony Award Winning Actor